Vintage Valve Guitar Amp Servicing & Repair| From Fender, to Marshall, to Vox, to Mesa Boogie and almost anything in between...
With over 25 years experience in servicing and guitar amplifier repair, my specialty is classic vintage valve models. With the right care and regular servicing, your vintage Fender, Marshall, Vox or Boogie (as well as many others) has the potential to sound as good as any valve amp ever made – including those expensive boutique models still being made!
I've seen many circuit construction changes over the years, but my preference is still point-to-point configurations utilising tag boards – the classic Fender amps like the Twin, Bassman, Tremolux, Vibroverb and Champ, for example - as well as many other well-known brand models.
Based in Royal Wootton Bassett, Wiltshire, South West UK.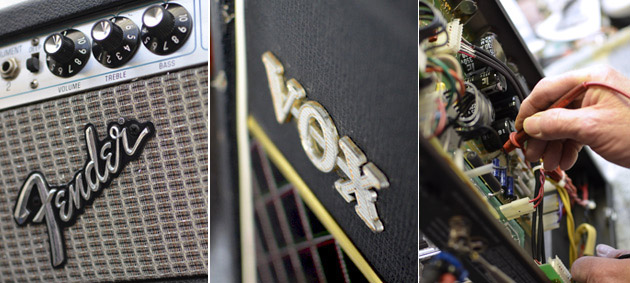 Wear & tear | It's all retro rock 'n' roll...but is it?
There's no denying old guitar valve amp kit has a coolness factor, but unfortunately, valves, filter coupling caps and resistors will deteriorate over time and affect the overall tone and sound quality of any vintage guitar amp. Common symptoms are noisy controls, excessive hum, unwanted distortion, sound break-up and microphonic valves. With respect to valves, I can obtain almost any type or quality, such as JJ, Sovtec, Electro Harmonix, Svetlana, Ruby, Fender, Marshall, Groove Tubes, Mesa and Tube Amp Doctor - as examples.
The actual speaker itself is also prone to deterioration after years of use and abuse, leading to misaligned and/or burnt out voice-coils, damaged cones, etc. A speaker's job is to try to faithfully reproduce the actual sound characteristics of the amp, which it won't do as well as it should if it's faulty. Various speaker brands/types can also make a dramatic difference in the frequency response and tone, so often a change or upgrade is a very worthwhile consideration.